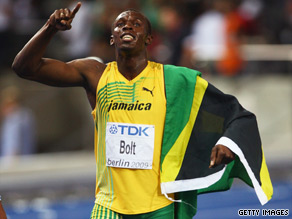 Usain Bolt celebrates after adding the world 100m title to the gold he won in Beijing, both in record times.
var CNN_ArticleChanger = new CNN_imageChanger('cnnImgChngr','/2009/SPORT/08/16/athletics.usain.bolt.tyson.gay/imgChng/p1-0.init.exclude.html',1,1);
//CNN.imageChanger.load('cnnImgChngr','imgChng/p1-0.exclude.html');
The Jamaican clocked an incredible 9.58 seconds to surpass the 9.69 he set in winning gold at the Beijing Games last year, with Gay finishing second after setting an American record of 9.71.
Former world record-holder Asafa Powell clinched a second medal for Jamaica as he finished third in 9.84.
The race had been billed as the highlight of the championships, with Gay returning to form this year after failing to make the Olympic final.
The 22-year-old Bolt, by contrast, had his season disrupted after needing minor surgery following a spectacular car crash in May -- but has shown no lingering effects, physical or mental, from that setback.
"I was feeling good after the semis. I knew it was going to be a great race and I executed it," Bolt told reporters.