(CNN) -- J.D. Salinger, the famously reclusive author whose 1951 novel, "The Catcher in the Rye," became a touchstone for generations of readers, has died. He was 91.
The author died Wednesday of natural causes at his home in New Hampshire, according to a family statement that his literary agent, Phyllis Westberg, provided Thursday.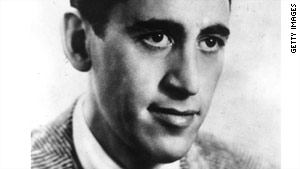 "Let me write a few words about J.D. Salinger. The book "The Catcher in the Rye" was my favorite book during my teenage years. When I went to the University it was the only book I proposed to my wife to read. She said to me that it was low level and did not like it. Yesterday J.D. Salinger died and my wife and son had a minor car accident. There are not many things to say on behalf of my family except :

R.I.P.  J.D. Salinger."
Panos Kotsas